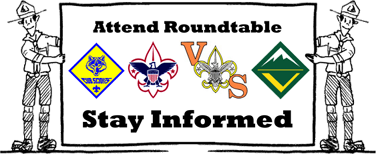 Good Afternoon Everyone:
     With all the upcoming events, things are getting pretty exciting in Leon Valley. Hope to see your bright shining faces there.
     March 22nd: Silver Eagle Banquet at Anderson Hall at CTC starting at 6:00pm. Our Committee Chair desires to have at least one Scout Leader and one Scout at each table. Please contact her if you can attend.
     April 14th: District Dinner at Anderson Hall at CTC starting at 6:00pm. Please RSVP to my email so I can add you to the list for a head count for the caterer. It is $5.00 a plate. May the Force be with You!!!
     Camp Cards were handed out last night so start planning for Day Camp.
You will find attached the resource sheets.  Just to explain for our new leaders that joined us, that I run roundtable without a budget so sending the resource sheets through email works best for me.  I hope they will be helpful to your committee as you prepare for next month.
     Thank you so much for your attendance and support at roundtable.